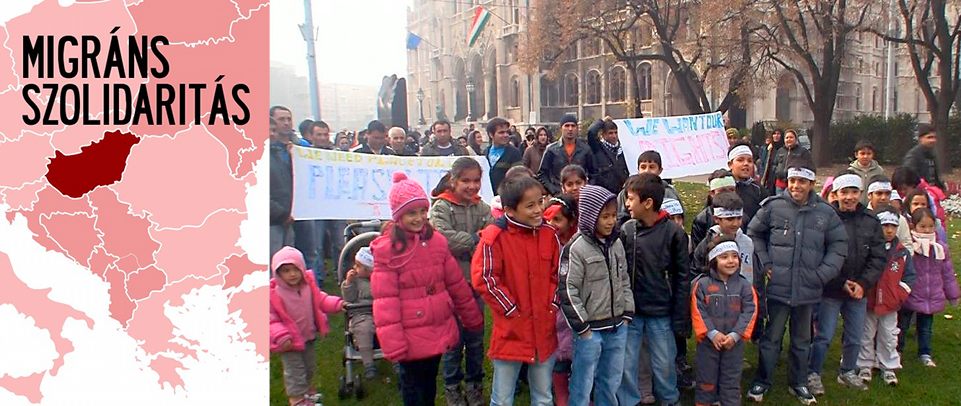 Since November 2012 more than 100 Afghan refugees have been protesting against the social conditions and the lacking reception system for refugees in Hungary. Already twice they went in front of the Hungarian parliament. Another demonstration took place in in front of the EU House in Budapest. Most of the protestors have been granted protection by the Hungarian government. Nevertheless, they are threatened by homelessness and extreme poverty. Through their protests, they could at least achieve not to be thrown out of the camp in the hardest wintertime, but their problems are only postponed. In March 2013 their time in the reception centre ran out and at the moment they are only tolerated in the camp. If they are kicked out like a lot of others before, most of them will end up on the street – among them many families with little children.
The refugees' demands are simple and understandable: they just ask for a fair chance to participate in the society that they are living in. They don't want to end up homeless, jobless and without access to the health system. They demand to get just the same as everyone else in Hungary.
We declare our solidarity with these families in Bicske, who found the courage to protest in front of the Hungarian parliament in Budapest. We feel connected to this struggle.
Welcome to Europe is a network of activists, who have teamed up in the fight against the inhuman European refugee policy. Some of us had just stepped out of a boat on a Greek island when we first met. Others had come to these outer borders of Europe to denounce the hunting of human beings by the European Border Agency "Frontex" and to welcome those arriving. We have friends amongst us who have been facing the situation in Hungarian prisons and struggle against their deportation to Hungary.
In the last months refugees' protests rise in several European cities: protest camps have been build up in Amsterdam and Den Haag (Netherlands), Berlin (Germany) and Vienna (Austria). Everywhere they have different backgrounds and therefore their demands are also different. Sometimes they concentrate more on abolishing the deportation system. Sometimes it is more about the lacking asylum system, sometimes about reception. All of these protests have also something in common: refugees are no longer silent. They stand up for their rights. They make clear: we are already amongst you. We will become a part of the European society.
The refugees in Budapest give us hope to continue with the struggle in other places as well.
We wish you to be successful – because every step that is taken by you will bring us closer to another, a welcoming Europe.
For a world without borders.
Social Rights for Everyone!
For more info:
Blog Migráns Solidaritás / Migrant Solidarity Budapest: http://migszol.com/
Facebook: http://www.facebook.com/migszolcsoport
Kontakt: migszoli@mailbox.hu