On Monday, 12 of April the refugees detained in Samos Detention Center came on a hunger strike in which participate the great majority (126 hunger strikers in 150 detainees). The reason was the two massive transportations happened in 21 of March and 9 of April (60 refugees transferred in the northern greek borders each time). They react because they are afraid that they will be the next that will be transferred in the northern greek borders in order to be deported, despite the fact that the massive deportations are illegal and consist clear violation of human rights.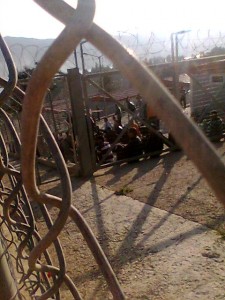 The most of them are Palestinians and they gave us a text in which they announce that it's better for them to commit suicide than to be deported. They insist on their right to be released with formal papers and tickets and not to go through any kind of violence. According to their denounce, they have been violated to sign papers in an unknown language without any translator. Also, no one has informed them about their rights. Furthermore, the police change their nationalities in order to deport them, and because they cannot proof their nationalities and their problems, so there is no any concrete asylum procedure because in reality.
They also denounce us that on Tuesday, 13 of April in the morning there happened a violent incident. The police-guards beat a refugee and then they send him in the Samos' hospital.
The Group for the Human Rights – Solidarity to Refugees tried from the beginning to go near the refugees, to discuss their problems and to hear their demands. On Tuesday, 13 of April ten members of our group went in the detention center to have a contact with the refugees. Suddenly the police commander denied our entrance because "there is no need any more" according to their words. We stayed outside the camp trying to communicate with the refugees from outside the fence. The police terrorized us, trying to keep us away. The police accused us that the revolt is our blame and they asked our identities.
We are sure that both the increased deportations and the denial of the access to the group is the result of the tough migration policy and of the permanent and improved role of FRONTEX on the island. We know that FRONTEX works 24 hours per day in the airport.
Solidarity to the refugees' struggle. We demand the acceptance of their demands. Deport FRONTEX!
14 April 2010
Group for the Human Rights-Solidarity to Refugees
Samos