+++ Frontex expands border patrol +++ Pagani still works as closed detention centre +++ Frontex-interviewers replaces Medicines Sans Frontiers +++ marks of Noborder are still to be found everywhere +++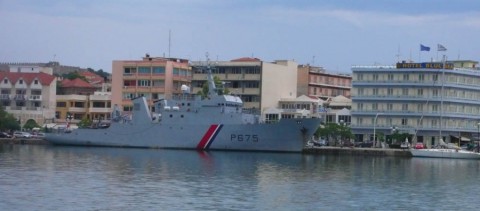 When you walk along the port of Mitilini, the capital of Lesvos island, you can hardly oversee that you are moving in a militarized zone of migrant-hunters. The greek coast-guard and the European border agency Frontex are even more obviously present than last year. The ship of the Rumanian coast guard (a lot of people might know it from last years Noborder-activities) looks small and almost friendly besides the more than double-sized grey vessel, named "Arago" from France. The "Arago" participated already in September 2008 in the Frontex-Mission Nautilus between Lampedusa and Malta. Even too big to be placed in the closed part of the port, it has to be parked in front of the Blue Sea Hotel. Sometimes it is also "hiding" near Petra on Lesvos' north coast, the main arrival coast of the last years. In the main port in Mitilini the coast-guard is again present and the small hunting-speed-boats that had shown their manoeuvring in the harbours action last August as well.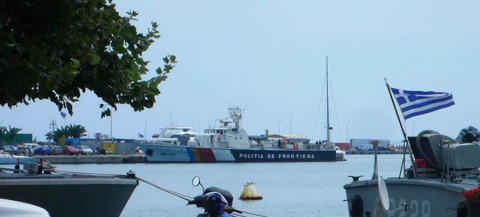 After an incident with the Maltesian Frontex-crew in March (the whole crew had been deported to Malta after being involved in a fist-fight in a nightclub) the 30-headed Frontex crew, seem to have order to be calmer, when moving into the city. They are more open for public relations than last year and try to show a more human profile, while protecting Europe from the attacks of criminal migrants as they claim.
Besides the militarization of the port, Frontex is again also present at the airport of Mitilini. An airplane belonging to Icelands' coast guard made its way through the volcano-ashes. And you can also observe passport-controls from civilian policemen now.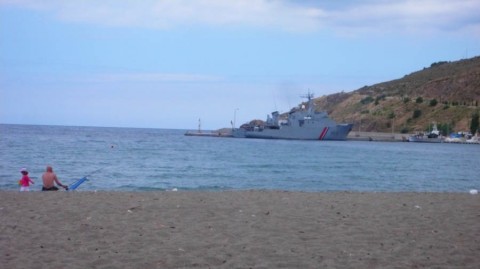 The numbers of refugees arriving at Lesvos decreased heavily compared with last year, like on all Aegean islands: much more refugees chose the way through the northern land-border in Evros-region. Refugees are telling that the border patrols from both (Greek and Turkish) sides have been intensified. Nevertheless, some afghan families with children arrived in Lesvos the last week.
And they are brought to Pagani again. Pagani the place of "Dantes Inferno" and of the maybe heaviest migrant revolts last year in Greece, was declared to have closed by the new government in October. Since then, it was claimed to be a temporary solution for refugees detention, usually only for a few hours up to 3 nights until there was a ship to transfer them to the detention camp in Chios. Now the financial crisis may stop has slowed down the procedure of finding a new place for a "proper" screening centre. There were plans to rent a hotel or to put containers left over from the Olympic Games on an old military area. Nothing happened until now and so Pagani works still as a closed camp, even if it is officially declared to have closed. Nobody knows what will happen if the numbers of newcomers should increase again, Chios has also limited capacities. And even Villa Azadi, the reception centre for minors, has an unsecure future. The funding is not secured. It could be closed in the middle of July. There are no new reception facilities scheduled to open for minors living there. They will probably end up homeless on the streets of Athens, Patras or Igoumenitsa.
Nothing has improved in Pagani. The toilets are still broken and dirty. The blankets are the old ones from last summer. Cats and dogs are sleeping together with the few refugees that are brought to the (besides new Frontex-presence) abandoned warehouse. Some litre chloral thrown on the floor, have been the only hygienic preparation for the new season. If a ferry is available quickly, police "park" the newcomers in the garage of the central police station of Mitilini in order to transport them some hours later to Chios.
Since a few days Frontex "translators" have been installed in the yard of Pagani: inside the container that was formerly used by Medicins sans Frontiers. They interview new arriving refugees about their travelling routes and – as new special target – try to change nationalities of refugees. A speciality that had caused one of the first hunger-strikes of migrants in April 2010 in Samos. A big group of Palestinians were declared to be Maghrebians and protested against this treatment, that was obviously aimed to facilitate their deportation. The Arabic-speaking "translators" in Pagani are interviewing also Afghans and put pressure on them to declare themselves being Iranians. They don't introduce themselves as Frontex, but claim to be there in order to help them, they don't explain the refugees their rights (for example that it is not obligatory to speak with them) before starting the interviews and they even put pressure on unaccompanied minors to answer their questions. They are preparing for the next level. In Izmir a new detention/deportation centre will be built with European funding. It will be the central place to deport refugees according to the new readmission-protocol Turkey renewed a few weeks ago with Greece. Experiences of protest against transfers to Evros have been made in Mytilini already last year, when activists made a blockade and stopped a refugee transfer towards other detention centres that the police had planned to carry out by ferry.
Pagani is still the same shit. The walls carry graffitis and the signs of fire of last year as relicts of the refugees' suffering and their struggles. They still tell stories of revolts. Do you remember their smell?