For two weeks around 60 Iranian, but also some Afghan and Pakistani refugees started a protest in the centre of Athens demanding asylum for all refugees. Almost all are trapped for years, even a decade, in the precarious status of the Temporary Residence Permit of Asylum Seekers (red card), without any information on their case, living with the fear of a final negative decision and without the chance to apply for asylum in another European countries due to Dublin II regulation.
Propylaea square is now occupied by the refugees, where they have put banners, distribute information material and stay night and day in the tents. They are trying to press the authorities and to attract the interest of local and international rights organizations and media and they are programming their next steps and the escalation of their struggle forms.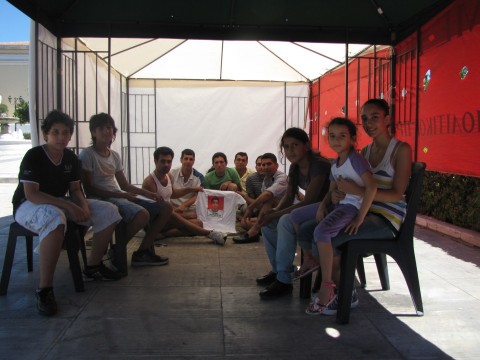 Statement by the Committee of Iranian Refugees in Greece
POLITICAL ASYLUM FOR ALL REFUGEES NOW!

the Commission of Iranian political refugees started its struggle on July 20 2010 [with a hunger strike] outside the UN High Commission for Refugees office in Athens. Our First victory came by gaining political asylum recognition to six Iranian hunger strikers. One of them, Hamid Sadeqi had sewn his mouth. Now we continue the struggle in the center of Athens at Propylaea (University of Athens), demanding asylum for all refugees!

We wait for the announcement of the starting day of the sessions of Asylum Committees by the government, as it was promised: "The transition process for Asylum under the new presidential decree is expected to be operational in September" (06/08/2010). No more fake promises!

There are thousands of refugees waiting in vain without any information on their case. Children born in Greece or came in an early age and now grow as if there is no future! What should the children and their families do to get asylum after 5,6 or even 12 years? Do they also need to sew their mouths?

We fight for the vindication of all refugees. We fight to stop the violation of our rights. We were persecuted by dictatorial regimes and illiberal states like Iran and suffered prisons, torture, death penalty, disappearances and also hunger and poverty. How to live in countries devastated by war such as Afghanistan, Iraq, Somalia? How to survive in Pakistan, where half the country sank beneath the waters and the indifference of the government scatters despair, disease and death? How to live in African countries that have been ravaged by famine?
We urge Greek people, workers and youth, trade unions, student associations, organizations fighting for democratic rights to support the struggle that we start and will not stop unless we take our rights.