This is an ongoing story. Click here to go straight to the first update, second update.
Since five days the fascist neighbourhood movement of St. Panteleimon and Attiki is occupying and defending the Attiki Square from the "unwanted" refugees living in that area. Even members of the movement are entering migrants shops shouting at people and threatening them. This reality has become daily life.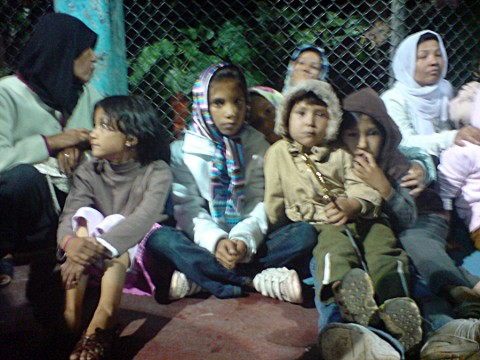 Meanwhile everyday exhausted newcomers are arriving from the border of Turkey, where they are kept like animals in degrading detention centres. Some of them remain homeless after their arrival in Greece and are forced to sleep on the streets and in the parks. Nowadays not even that is possible. Not just because of the cold weather conditions or the police that has started a war against the undocumented and the "unwanted", patrolling the streets, yelling at them to leave, even kicking women and minors away and taking their blankets and clothes from them. Nowadays its because one has to be afraid of Greece's neonazis.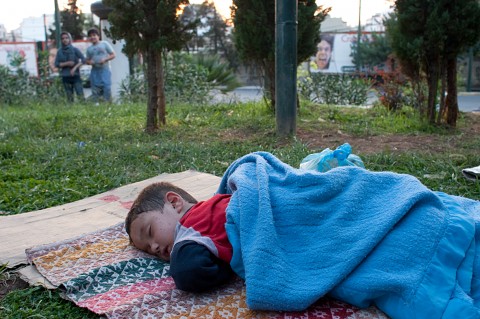 More than five Afghan families with small children and unaccompanied minors are living in a park nearby Attiki – some of them for more than two months. Some of the families moved somewhere else, because they were very afraid of and horrified by the police. There is a small child with a heart problem, a women alone with her three children, an unaccompanied minor with a swolen eye, children sitting in the cold wearing a T-Shirt, shorts and sandals.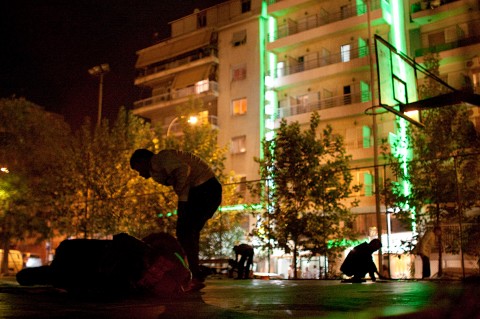 The police came and took our clothes and our blankets away. They were yelling at us. They kicked my leg. I still can't walk. They want us to leave!
They say there are some fascists nearby. We are afraid to go to Attiki. Here they also come and yell at us. I don't understand what they say.
We want to go somewhere safe. We don't have any money. Maybe we can borrow a little money in order that two of us can move on to other European countries. But there is not money fort he rest of us. We don't want to stay here, but what can we do? Will my boy get asylum if I send him to Europe?
I am alone, my husband died. I have only my three children. Who should help us?
Update
The ghost-squares of St. Panteleimons and Attiki have become no-go areas for the whole neighbourhood. After more than a year of fascist organising against immigrants, the two squares are being kept occupied by fascist groups. Nobody is crossing the squares, nobody is sitting there – apart form themselves. "We don't want you here. Go home!" is what they tell and show their immigrant neighbours in the most brutal ways, but in the end of the day this counts for all of us. The invasion of public squares by fascists is a new epidemy in Greece. Every second foreigner can show you a scarf, an injury caused by racist attacks: one has been hit by a knife, the other was beaten… H. has stopped smiling. He lost three teeth when a group of 20 fascists attacked him and his two friends. Now he feels ashamed to smile.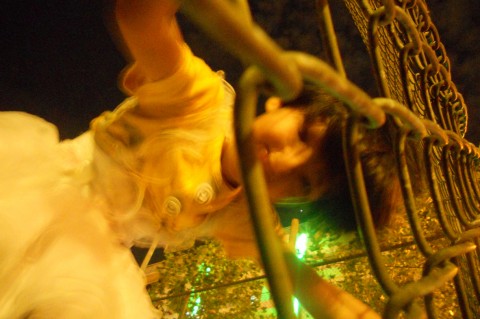 Nobody feels comfortable in the neighbourhoods that are under constant fascist threat – nobody except the police. In groups of up to eight motorbikes, each carrying two of the self-proclaimed city-cowboys, they aggressively patrol the streets with sirens and blue-lights. In a rhythm of only a few minutes they pass by again and again hunting the undocumented, arresting them, filling up the prisons with *sans-papiers*. What they sell as safety is a massive militarization of the streets and the construction of borders in the city. A war against immigration has conquered Athens and has invaded our lives threatening our freedom.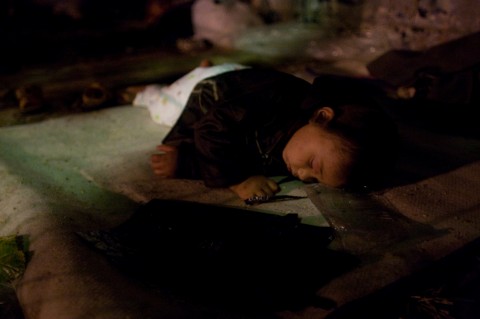 Just around the corner, a public park which has not yet been incarcerated by the fences of the extreme right wing movement. It is late in the night. The lights of the basket-ball court turn off. Shadows of people move from all sides of the park towards the wet playground, lay-out blankets, carry their bags inside. It is time to say goodnight to the cold. Occasionally the shadows shape faces in the yellow shine of the street-lamps. A 12 year old Afghan girl is trying to sweep the water away. Her 9 year old sister sits on a yellow blanket playing with a blond Barbie. A few meters away their parents sit together with other families and share the food of the church they got from the soup-kitchen earlier the day. Some young men – among them unaccompanied minors, Dublin II deportees from Norway and Slovakia and asylum seekers – have already laid down turning their blankets over their heads to be protected from the weather, the lights and the noise. A. is disappointed: "I have decided to return to Afghanistan. I cannot survive here. I am a minor, still I was registered as 18 year old, like many others. I tried to ask for asylum. I tried to leave. Now I want to return, but the deportation centre (he speaks of IOM) told me I have to wait until March 2011. How can I sleep in this park for another six months? Every night "police bazaar" here. They come and wake us up. They tell us to leave. To go where? Last time they kicked my leg. I still can't walk. The other day they took all our clothes and our blankets. The Greeks also don't want us. They tell us. They yell. They even beat people. How can I leave this country faster?" In the middle of the basketball-court F. is sitting alone emptying out the daily pressure into her diary. She came alone to Greece with her three children. R. is passing by. He is still smiling although somebody stole all his clothes yesterday night. He has not lost hope. It is just one month that the unaccompanied minor arrived in Evros. He wants to leave Greece. The 16 year old was registered by the Greek authorities as 18 year old: "I told them: I am sixteen – in English. They wrote 18." S. seems much more desperate. The first time he contacted us, he sent an SMS saying "help-help-help!" Now he is sitting calmly on his blanket: "When I came to Greece I managed to escape to Austria. After a while they found my fingerprints in Greece and I got a deportation decision. Before they could send me back I ran away to Slovakia. I asked for asylum there, but they only put me into prison for six months. I was seeing a psychologist during that time, because I have too many problems. I lost all my family in Afghanistan. I have nothing. Then Slovakia deported me with an airplane to Athens. I got a white paper, which was stolen from me in the soup-kitchen when I was waiting to get food. Now I don't have any paper. I sleep here in the park with my friends. I really have a lot of problems!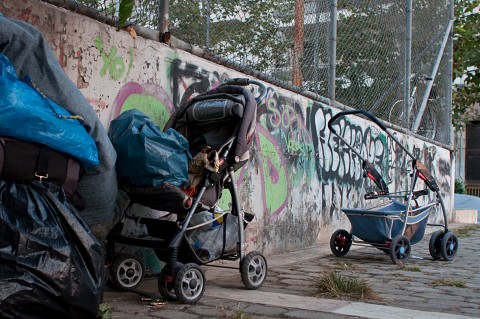 In total there are around 40 refugees sleeping on the basketball-court these days. Most of them are Afghan families. It is not the only public space hosting homeless refugees. They sleep on squares, in parks, under bridges. The majority of refugees in Greece are homeless, but not all of them are rough sleepers. The winter has just begun and business is as usual: The few existing reception centers for refugees are all overcrowded. The new government had announced to build up more housing facilities, but after a year we have seen nothing more than nice rhetoric up to now and refugees still sleeping under the roof of the open sky being subject to all kinds of dangers reaching from the "simple" cold, theft or confiscation of private property up to police raids, fascist assaults and the sexual abuse of unprotected individuals.
We demand…
From the society to react against rising fascism and police violence
A sustainable solution for the long lasting housing problem of refugees in Greece
Adequate protection and equal rights for all people
Freedom of movement
NO ONE IS ILLEGAL
Update 2: Friday, 8th October. Protest against fascists – demonstration of solidary people and Afghan refugees in Attiki
This is one of the seldom afternoons that the afghans reconquer the square. A group of 1000 people, among them many Afghan refugees, women and children gathered in the afternoon in Attiki Square to protest against the fascist movement that is occupying the place since more than a week and that already has expulsed all forms of human life from the St. Panteleimon Church. Among the many speeches were mainly Afghan refugees talking: "what have we done to you, that you treat us like this? We were forced to leave our country, we came here for saving our lives. Whose mother would send her own children away in the danger of crossing borders in the dark and with the fear of loosing them to the streets of Greece – to hopelessness, homelessness and drug addiction? Which mother travels through all that dangers with her small children if she has another choice. We came here to be saved, but instead be get beaten and kicked. Why does the government not gives us a place to sleep? We never chose to spend all our time on this square. We have nowhere else to go. Why do they take our fingerprints here if they cannot offer us anything? Why don't they let us go, if they don't want us? Why do they want us back, when Austria asks them to? I was deported from Austria back to Greece with my husband and my two small children. Three days ago we lost our flat, because we could not afford to pay the landlord anymore. Now we sleep in the park. Why is nobody taking his responsibilities and helping us?" A small girl says: "I want to go to school! I want to become an educated women!"
At dusk the bulk of people sets of towards St. Nicholaos train station demonstrating and shouting slogans such as: "Fascists assholes – the gallows are coming" and: "Nobody in fear never and nowhere – break the fascists in each neighbourhood" Greeks and Afghans walk together while the police is not far. The fascists hide. The demonstration ends peacefully and gets dissolved. On their way back a group of 50 Afghans and a few Greeks suddenly get attacked by two dozens of police. they want to prevent the Afghans from returning to Attiki Square so they just suddenly start beating blindly into the group of demonstrators. The first Afghan they attacked fell down from the beatings and was arrested thereafter for unknown reasons. Most people ran away, but at least 10 people were hit – some of them badly. Among them were also minors. One of them had to be brought to hospital, while there were rumours that another Afghan was attacked in St. Nicholaos with a metal pipe by fascists. He broke his leg at two points.
A small victory but still and long road to go…..!