Fountain to remember death and missing at the border in Tichero (Northern Greece)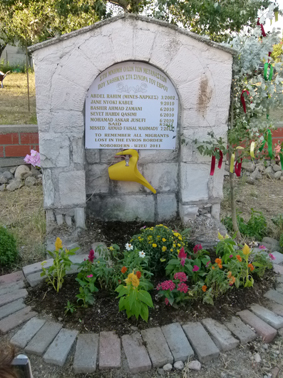 John lost his wife Jane and Tahera her husband Bashir in the Evros River. They represent hundreds of other migrants who drowned in the water, were killed by landmines or are still missing. Their dead bodies were treated disrespectfully: In 2010 we discovered a mass grave in Sidero where the corpses could not be identified. We returned to give back a piece of dignity to the death and also those who survived.
Tichero, 30th of August 2011
We came together today, here on the road to Tichero.
We gathered in Tichero around this fountain for remembering the dead of the European border regime.
Immediately when we arrived here, we were reminded of the currency of this memorial ceremony: The Turkish newspaper Hurriyet reported that a migrant was killed when Frontex patrol opened fire to migrants crossing the Greek-Turkish border at Evros River. A group of migrants tried to cross the border from Evros in Greece towards Edirne, as Frontex forces opened fire on them. From the gun shots one of the rubber-boats sunk. The migrants swam to the Turkish river side. One migrant who was waiting to board on a boat at the Turkish side was shot in his back. This is one of the shattering news of these days.
In 2011, up to now, 70 people were found dead in the Evros River, 47 of them have not been identified. This year border deaths have reached a number of 47. And more than 2.000 refugees and migrants died in the Mediterranean Sea this year, mainly when they tried to reach Malta or Italy from Libya or Tunesia. The numbers of deaths at the European borders have increased tremendously. Something has to be done about it!
All of these deaths have a face, a name. All of them leave behind relatives and friends. Besides the bodies also their hopes and dreams are lost.
We want to give back a piece of dignity, to those whose death disappeared – right here – into the senselessness of the European borders.
We gathered for giving back a piece of dignity also to those who survived. A piece of dignity that was lost on the way to Europe, like the passports or the photographs showing the faces of the beloved ones that disappeared in the water.
We want to give back a piece of dignity to all of us, who feel ashamed in the moment of these deaths because we failed in our attempt to stop this murderous regime and to create a welcoming Europe.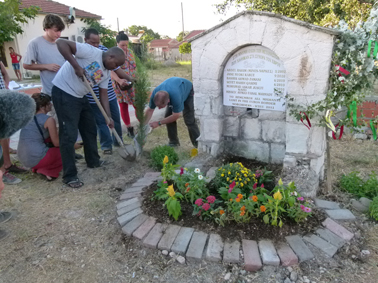 We came with different backgrounds: S., she lives here in this region. Some came from a Noborder camp that took place in Siva Reka in Bulgaria, where they shared some days of protest against this deadly border regime. M. and R. have been helping people to search relatives and friends they have lost in this region. S. is searching right now for his friend Saaid, whose trace got lost here in this region two weeks ago, not knowing if Saaid is dead or alive. John came to mourn his wife Jane who got lost at this border. Some of them will speak to us later. Thanks to all of you, that you found your way to here to be together at this ceremony of commemoration. Thanks also to those who cannot be here today, but are nevertheless with us right now, like Tahera who lost her husband Bashir in summer 2010 in Evros.
Tahera is a refugee living in Hamburg with her children. She is not allowed to travel and so she cannot be here with us today. Tahera wrote a letter to her husband Bashir. It will be read out in Farsi and it will be translated into Greek and English afterwards.
For my husband Bashir.

My dear Bashir,

the world without you is no world, it's a world without colours. Life has become very hard. I beg god, if you are alive, please may He make you come back to me and to our children very soon. And if really happened what I am not able to find words for, that you will never come back, I ask god for you to find a better place in paradise. There is not a day or night passing when the children don't wake up or fall asleep thinking about you. They miss their father very much and talk about you all the time.
My dear Bashir, please I would like be close to you

Tahera, 12. August 2011
M. and R. have been all the time in contact with Tahera. We thank you that you are here right now and that you have put a lot of energy to make this ceremony of commemoration possible.
Everywhere around this border we also found people who have not closed their eyes. Thanks to all the unknown people who help migrants on their way silently and on an every day level.
S., we have to thank you especially, for the warm welcome you gave to us. In these moments when sorrow is close, it is good to find a place to rest. Thank you for being here.
To Express our Gratefulness to the Inhabitants of Tichero:


Since we have been here, working on the realization of this memorial, we have been received, treated and welcomed like friends by the inhabitants of Tichero and the neighboring region. We would like to thank them for not having closed their eyes. Thank you all for your hospitality, your helpfulness and your support, helping migrants on their way to a better life and on an everyday level.
We know that those who would want to find a place to rest will find doors opened to welcome them here.
Thank you.
John, your wife Jane got lost in the river of Evros in September 2010. Thank you that you will share your memories of Jane with us. Thank you very much, John, for being here today. Y. will translate for John, but he is not only a translator. John also brought him here as one of the friends who accompanied him during the last hard year. Thanks also to Y. for being here.
Ladies and Gentlemen,

For the last year we have been searching for my wife Jane.

The dream of finding her alive was shattered when the DNA-results came out positive.
I do thank God for showing the light.

I know Jane will keep living within us through the legacy she has left behind.
The effort of many individuals and organisations is highly appreciated.

The love shown in searching for Jane has gone beyond colour and borders.
People have come together in unity to answer one goal: finding Jane!

Jane's body lies in Sidiro. She was buried after being collected on the Evros River on the 2nd of August 2010.

Tribute to my loving wife Jane:

Jane!
For the last one year my life has almost been blocked, stopped.
I have had sleepless nights looking for you.
I have finally got the news, thanks to the confidence you have followed sued in me.

I know it is your wish to be taken back home Kenia.
This I will indeed make an effort with the assistance of my friends

My love for you is beyond measure and you will keep being between us forever.

We will keep the flame by.
We know your values and we will carry on the spirit.

Will our lord help us to stand firm as a family.
Our dear parents, brothers and sisters, our loving children, will always remember you.
Relatives and friends will always remember and respect you.

The papas of the fountain here Jane, in the same respect, have included you as a member for the Evros victims, but not as a last respect:
May God bless your soul in a kind of peace. Amen.

My appeal here, today, Ladies and Gentlemen is that just as we joined hands looking for Jane, we join hands making it possible to take Jane back home in Kenia to be buried in respect and dignity.

Thank you very much.
Here and today, at this place of failure and loss, we want to stop for a moment and create a space for all those who lost their lives. Remembering here, means to save the stories of the uncounted faces of those who died at the borders of Europe.
Their death is the death in search for freedom. And that concerns all of us.
So let us speak out their names.
Abdel Rahim – he lives!
Jane Njoki Kabue – she lives!
Bashir Ahmad Zamani – he lives!
Seyef Hahdi Rasimi – he lives!
Mohamad Askar Yusufi – he lives!
We will search and find:
Saaid Noor Saaid
Ahmad Faisal Mahhmady
We will never forget them.
We shall tear down the borders that killed them.
Due to bad treatment and living conditions in Greece, refugees try to cross the border back to Turkey. Since two weeks Saaid from Sudan is missing. He got lost on his way back to Turkey after he had spent some months in Igoumenitsa, still trying to make his way to Italy. Saaid got disillusioned. His energy faded away. Even back might be better than being stuck, starving at a mountain. And now his trace got lost while searching a way out of here.
S., you are Saaid's friend – and you are on one of the hardest journeys right now. You have come here to search a friend, knowing that you will maybe find only his dead body to give him the last respect and the dignity of still having a name. Thank you very much for being here with us.
S. is standing besides you. After the eviction of the refugees' settlement she has struggled a lot of days facing the hardship of Igoumenitsa's mountains together with you and others. And there is also S. besides you. So the sisters you choose yourself will not let you alone in these hard days. And like John found Jane we will finally find Saaid – dead or hopefully alive.
We are also thinking of Ahmad Faisal Mahhmady now, whose trace got lost at this border in July. His cousin from London wanted to be with us here today but it was not possible for him.
And there is another name on this memorial plate: Abdel Rahim became a victim of the landmines. He died at this border in 2002. We will read out a letter of Louisa O'Brien now. Lousia is a representative of the International Campaign to Ban Landmines. Unfortunately she cannot be here today.
This Memorial is a mark of shame.

Shame that so many have to leave their homelands to find a life, or to be safe from persecution; shame on international communities past and present that have always looted and pillaged those homelands.

Shame on a civilization that has no shame.

Not far from here, human beings who survived their inhumane journeys are locked up in abysmal conditions. And they are the lucky ones.

Since the minefields were laid in 1974, we know that well over 100 people have died on them. We believe that there were many more we never learned about. The survivors of landmine accidents face a life of continuous struggle and pain.

In 2009 Greece declared itself mine-free. In the context of Evros this means that tens of thousands of anti-personnel landmines have been removed from the soil, causing over 30 Greek deminers to die in the process. 

This memorial is also for them.

The people who died here were forced to travel furtively through the dark to try to arrive at a safe place.

They didn't find it.

May they not be forgotten.

Louisa O'Brien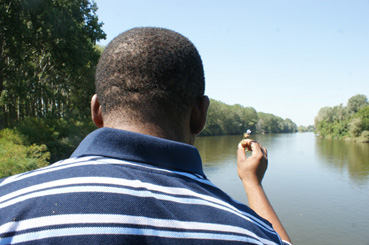 Bashir, Jane and Abdelrahim represent hundreds of other migrants who drowned in the water, were killed by landmines or are still missing.
For those who got lost at the border a new blog was created in solidarity. It is planned to become a small structure of support, providing answers if you are searching for somebody who tried to cross a border but never appeared again. It shall provide contacts to the institutions, NGOs and individuals that can help. This blog can also become a space of communication for stories of loss and exchange of experiences.
Remembering and listening to those stories, hopes and dreams that have been washed ashore means also to listen to their warnings and accusations:
This Europe is not safe, human rights and refugee rights have lost all relevance! They ask the ones alive to take action against this Europe of Frontex – borders and walls. They demand to struggle and to invent a Europe of solidarity, overcoming the deathly migration regime as it happened in history with the dark sides of the Middle Ages.
For the ones who will pass by in the future, the fountain should be a place to rest on their further way, providing them with water and the feeling that they are welcome.
We invite you to sit down together now, to eat and have a rest as well.
We invite you to have a rest – and then to move on.
To tear down the borders and to built another, a welcoming Europe.
Blog lost-at-border: http://lostatborder.antira.info
Discovery of the massgrave in Sidero: http://w2eu.net/2010/08/09/mass-grave-of-refugees-in-evros-uncovered/
Infomobile Greece: http://infomobile.w2eu.net
Interview with John: http://infomobile.w2eu.net/2011/07/28/john-missing-jen/