+++ As hunger strike of 300 approaches day 30, striker are in dire need of transnational support! +++ It is time to ACT NOW! +++ Fax, E-Mail and phone the Greek authorities and demand immediate legalisation NOW +++
I want to be treated as a human being – like the Greeks. When we will get papers, I will not anymore be afraid of police and I can work legally with an insurance. But most of the time I think now: what will happen if the government does not give an answer? (Arqal, hunger striker in Athens)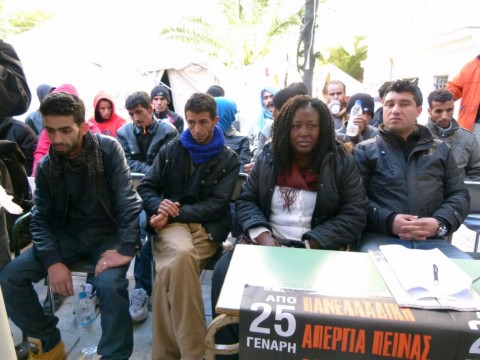 Since the 25th of January 300 migrants are on a hunger strike in Athens and Thessaloníki. Many of them live in Greece for more than six years. Most have been working in the harvest – all of them under extremely problematic conditions. To be without papers means: no health insurance, unpaid wages, no chance to travel…
They decided to go on a hunger strike, demanding the unconditional legalisation of all migrants in Greece. A big group of hunger strikers came with by ship from Crete. Solidarity groups welcomed the migrants at the port of Piraeus, and then, they altogether moved to an empty building of the university in the centre of Athens. A university building was picked because police is not allowed to enter the university (university asylum) since the end of the military junta, when soldiers entered the polytechnic university by force – but in the case of migrant protesters the university asylum was not respected. As a result of negotiations the hunger strikers moved to a building close to the university.
But until now the government did not move. The hunger strike is at a decisive point. Each day the hunger strikers are getting weaker. Each day brings more dramatic developments. On Friday Hassan, one of the hunger strikers, collapsed during a press conference:
As you well know, today is the 25th day of our hunger strike. So far we have had no response from the Government. No one has spoken. What is the Government waiting for? Is it waiting for us to die?
After speaking these words, Hassan suffered a hypoglycaemic shock and turned unconscious. The incident illustrates the extreme situation of the strikers who have been on an austere hunger strike for more than 25 days now, taking only water, sugar and salt. Eight hunger strikers are in hospital to date (day 26), dozens more face serious health problems. But until now the authorities don't move to fulfill their demand for legalisation.
We are sending a message to the Prime Minister, who has said that he was a cleaner in Sweden and has experienced racism. It is time to intervene before it's too late. So that we won't have any deaths.
The wave of support for the hunger strikers has become enormous: from institutional members, to unions, hundreds of artists and intellectuals, thousands of supporters in Greece and abroad stand in solidarity. But obviously the government needs some more kicking – so now it's also up to you. It is time to act!
I believe that the resistance of migrants against expulsions, harassments, discriminations and exploitation, struggling for their rights and their existence, is a dramatic human cause of our times. In addition, or rather, inseparably, it represents a crucial element of the popular movement for democracy in Europe, which crosses borders and for that reason elicits a redoubled xenophobia. The solidarity with the migrants must take form not only at a local scale, but at the continental level. (Etienne Balibar)
+++ THIS IS WHAT YOU CAN DO +++
Send letters, fax and emails of protest to the Greek ministries of interior, of citizen protection and of health and to your local Greek embassy and consulate! (here you find a contact-list and here a draft for a protest-letter)
Help spread the word to media, and send press releases to your local, regional, national and european media. (here you find the press release we sent out)
Send copies of your press release and solidarity declarations to: hungerstrike300@espiv.net
Pass this message on in your networks and urge other people to act, too
Stream of recent information as always: