Our friends from Clandestina alert us to the fact that…
…last Tuesday (4th of December), a riot broke out, one of the most serious to date, at the detention centre at Fylakion in the Evros region, near the town of Orestiada and the FRONTEX headquarters at the Greco-Turkish border. According to the policemen guarding the centre, the sans papiers immigrants short-circuited the electricity network causing a blackout, blocked the sewer system causing the overflow of waste and caused minor damages to the centre's building.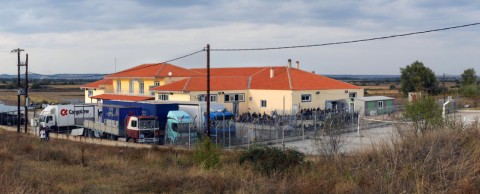 Special police forces were called in from Orestiada and the sans papiers welcomed them by throwing chlorine detergent at them. They had been supplied bottles of chlorine so that they keep the prison clean by themselves, since no cleaning service is provided for the 3-year old detention centre, where up to 1000 refugees, including families with small children, are being held in a building designed to temporarily host 350 people at a time – with bad water, few toilets, no showers, and no medical or legal help.

During the riot, four sans papiers are said to have escaped.
picture credit: image of Fylakio detention centre taken from wikipedia