Also read the Call for a Common Day of Action on the 11th of February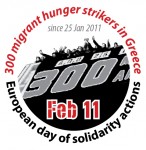 The hunger strike of the 300 has been going on for over a week now. The reactions in Greece are quite strong, a lot of people and organisations have expressed their solidarity with the hunger strikers, however, the state has not been idle either, first attacking the hunger strikers because of their choice of place to hold the strike, then threatening their eviction by force. Now they are also going after the supporters, threatening them with legal action.
It is time that we show our solidarity! We call for a European Week of Solidarity with the hunger strike, from the 7th to the 13th of February. Not only are there Greek consulates and embassies all over, the problem is a European one, so there are plenty of places to go and to protest.
We'll keep this post updated with actions going on, so please drop us a comment if you plan to do something.
Actions planned so far