M., a 17-year-old Palestinian youth was accused of "trafficking" in Samos. Four months ago, M. was arrested by the police, when he arrived in a boat together with another 55 people. The police claimed to have him identified as the driver of the boat. The accusation was based on a photo made from a helicopter that was stationed in Samos as part of the Frontex operation Poseidon. Despite being a minor, he was imprisoned, awaiting his trial. The Samos solidarity group heard about his case and organised a lawyer. He was in front of a court, but finally acquitted and set free.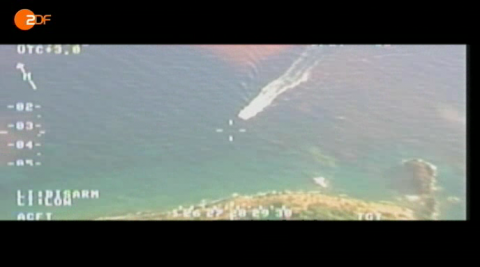 Welcome To Europe made an interview with M. in June 2010, after the trial was over. His friend A. acted as a translator.
w2eu: Please tell us what happened.
M.: The police works in the sea, looking for people coming and they look with goggles. I was afraid because i was the youngest person in the boat, so I stayed near the engine. But I didn't drive, because the big one drives, because he knows Samos, he knows the sea, he knows everything. In my country there is no sea. So I am absolutely no driver. The helicopter is coming with a big light and after that the police take me. I asked them why me? They say because the police saw me in the boat near the engine. But the photo is not very good because you can't see in the sea if you drive or not, because the driver is clever, he stays behind and he puts his hand in the engine and he drives from far away.
But i was sitting in the boat like this [shows how he was sitting on the floor] with all this people. There were too many people and it was a small boat, 56 persons altogether. Too much people. They make a photo from the helicopter. And when the Greek police took us out, only me they put to prison. All other 55 were sent to the detention centre. So the police accused me because of the photo. All people go to the camp [detention center], only me, they sent to the prison.
The first time I spent one month in prison. They put me in prison because I was young, so no person helped me. My lawyer managed to take me out of the prison, since I was going to court. The lawyer said "this person he has court after, why you retain him in prison?" So the lawyer takes me out and I stayed with A.
After the court, I became free. Because in the court this person [Greek policeman] comes and speaks and says: "I don't know if it is him or not!" So i became free. He was a Greek police person who could not recognize me.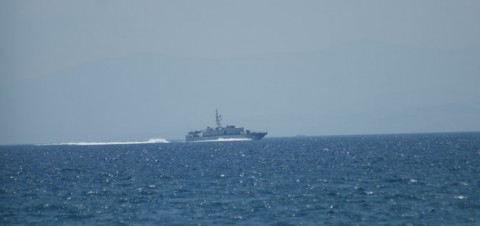 While we talk M. sees me hold a camera and is afraid. He tells me: No photo! I give him my camera and say: M. you can take a photo of us! Then he smiles and holds the camera making a Photo.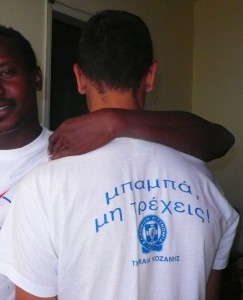 A.: M.'s brother is in Athens. Now M. is free, but he has a problem because he cannot go to his brother in Athens. Although he was set free by the court, and the court is finished, the police doesn't give him his paper. No xarti! No papers. The lawyer promised today that he will go to the police. He cannot go himself, because the police here is too dangerous. The court set him free but the police gives him not his papers. He has to stay in Samos.
If he goes to the karavi [ferry], the police requires the papers, and they will put him to jail another time.
He doesn't like to stay here. In Athens it is too dangerous and his brother cannot come here. People think Athens is better, they don't know. Me I stayed 5 days in a park in Athens! After that I come here again. I am one and a half year in Samos. I have red card [certificate of asylum application]. With the red card you become safe, but not too much. You can work. I am lucky because people help me.
Red card in Greek means: I can't go to my family and come back, I can't go to another country to work. Many things are difficult. I am strong, but what can I do?
w2eu: Where does M. want to go? Does he have family?
A.: They accepted that he is 17 years old. He has one brother in Europe. But without papers, too. The same problem. So he can not take him there.
w2eu: How did he feel when they caught him and said he is guilty?
A.: He feels very sad, he was scared he might have to go to prison for 20 years.
w2eu: But when they said he was free?
A.: All the night he was out in the street! He was very very happy! But from this time, he spent all the time sleeping. I say: go to platia [square], to get work! But he is always sleeping. He just wants to go to his brother.
w2eu: Thank you M. and A. for sharing this with us!