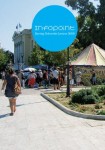 Long promised, hard worked on, full of fascinating stories: We bring you the brochure about the infopoint that we set up during the noborder camp 2009 in Lesvos. Tons of stories, experiences, insights and a strong example of the difference one can make with a little determination and collectivity.
Editorial
Circus Tent towards a Welcome Island: Reflections on the Infopoint in Mitilini / Lesvos in Summer 2009
Unbelievable Days: Interview with Azadi – Translator & Activist at the Infopoint
Eden: Interview with Eden
I just Wanted to Say, that I Arrived fine: Refugee women from Eritrea in the Greek Transit
We are on the Move to Stay: Impressions from the ›Farewell Parade‹
We are Walking until Noborders: Interview with Mr. X
We Saw Things can be possible! The Story of two Afghan Families who Resisted Detention
Help yourself! Insights of the Infopoint
Medical Advice
We really didn't Feel like Refugees! Reflections on Lesvos two Months after Noborder
Last Days of Pagani in October 2009
No to Pagani and no to any Prison
The End, and the Beginning: A Flight from Greece to Germany
I would like to Follow a Star. But there is no Star to Follow: birdsofimmigrants.jogspace.net – A Blog by underaged Refugees
Hartino Karavi – A Paperboat: Permanent Info- and Welcomepoint for Refugees in Mitilini
Useful Links & Information
Download the infopoint-brochure as pdf (7.9 MB)
Of course, the brochure will also be printed. Information, where to obtain it can be asked at transact [at] so36 [dot] net via email.
You might also want to check out schengendangle, another blog by young migrants trying to skip from Greece. And those speaking German, we have a campaign-site for the upcoming Dublin II-Campaign at dublin2.info.